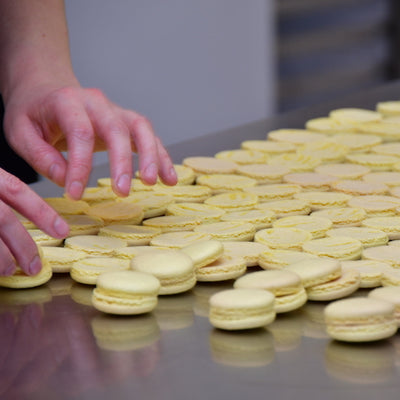 Our macarons are best kept in the fridge and consumed at room temperature
All macarons contain nuts
We now offer free click and collect from our Edinburgh kitchen!
Product Information
If you can't make our classes in person, you can access our online tutorial to help you make the best French Macarons!
How it works:

Once you place your order, you will be sent an email containing links to 9 video files and one PDF file which is your recipe book.
You will be able to access these and follow the videos in your own time and at your own pace. The recipe book will tell how you much of what ingredients you need and you will have the videos and recipes for five flavours of macarons:
- Rose
- Pistachio
- Chocolate
- Vanilla
- Orange Blossom (dairy free)
This is not a live class, so, if you get this as a gift, you can start baking straight away at home! You can watch the tutorials again and again and bake at your own pace.
Have more questions about the class? View FAQs on a separate page.
Ready, set, bake! Allez!
---