Subscription FAQs
So you're interested in receiving macarons each month? Or perhaps gifting a special someone with the gift of a macaron subscription? 
What is a macaron subscription? 
Our macaron subscription is just that. Each month our team will send out a gift box of 12 macarons, two tea bags supplied by Shibui Tea and a carefully curated gift; chosen by Mademoiselle Rachel herself.  
What flavours of macarons will I receive?
Our subscription boxes will be made up from limited edition special macaron flavours and classic favourites. If you have any questions or specific allergies do contact us and we'll do our best to help.
How long does a subscription last?
We have a range of options available; from our monthly special box - to see what all the fuss is about and see whether a subscription might be for you - or a year prepaid upfront there's an option to suit all macaron lovers. 
Can I send a subscription as a gift?
Oui! Our subscriptions make fantastique gifts and are the gift that keeps on giving! Simply pop the recipient's address details in at the checkout and we'll send their boxes directly to them each month. Make sure to leave a note to them at checkout so we can let them know who it's from.
Please note that the customer portal where you access information about your subscription will be set up under the email address of the sender. Please get in touch if you need to change this.
When will I (or the lucky recipient!) receive the subscription boxes?
Our Subscriptions have changed for 2023.
If you order a subscription before the 15th of the month, your first box will be dispatched the next working day by our team. You will then be charged for your next box on the 1st of the following month - and you will receive your next box on the 2nd / 3rd.
If you order after the 15th of the month, the box will be dispatched on the 1st of the following month.
All rolling subscription boxes are now dispatched on 1st of the month (or just after)
You can check your subscription delivery schedule in your customer portal. Here you can skip, or add further boxes as per your requirements, change the delivery address or extend / amend an existing subscription type.
Can I update my subscription; skip a month here and there?
Yes, in your customer portal you can access your delivery schedule. If you'd like to skip a month simply do so by 25th of the month to ensure the next order isn't generated on 1st of the month.
Will I be charged shipping?
Non. All of our macaron subscriptions; whether monthly payments or prepaid are priced inclusive of shipping.
What are the free gifts?
Our carefully curated selection of gifts are chosen and showcase brands we love; from Shibui Tea to The Fernery we're delighted to work with small suppliers who have the same ethos as Mademoiselle Macaron. You can read about our suppliers, and get sneak peeks of upcoming subscription gifts on the blog.
Got a question that's not covered here?
Subscriptions
Whether a 3 monthly prepaid gift, or, a self care treat for yourself. Our subscription products are the perfect excuse to enjoy a moment of luxury every month of the year.
Month by Month Macaron Subscription
Shop Now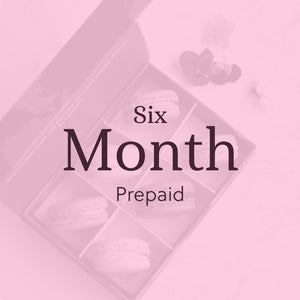 6 Month Macaron Prepaid Subscription
Shop Now