Our macarons are best kept in the fridge and consumed at room temperature
All macarons contain nuts
Specify your desired delivery date at checkout!
What's in the box?
Want to stand out from the crowd? You can make macaron favours even more personalised with our printing machine. Why not have your logo printed directly onto macarons!? 
Choose from shades of pink, green or blue, or opt for something to compliment your wedding theme - just include a note and we can suggest options whilst preparing your order. 
You can choose from having all macarons printed or the single top macaron with printing - simply upload your logo during ordering. Further notes on this below!
For branded ribbon do contact us separately. Please note that an additional fee will be applicable for personalised ribbon; ivory, gold or single colour ribbon is otherwise included.
Fancy an even larger quantity of macarons printed for an event? You can order trays of our logo macarons here. Or, for anything else get in touch with our customer service team. 
Order notes
- Please upload high quality images, roughly 3000 pixels if possible. 
- Grey-scale and simpler single / two-tone colour logos work best. If you would like to see a sample print do contact us before placing your order. 
- We are unable to print white logos.
- We will print the logo macarons on our Vanilla (ivory) macarons if no colours are chosen. Otherwise choose colours from the drop-down menu.

- Please note that macarons average 4cm in diameter. 
We reserve the right to edit the image to ensure a quality print. If you have any queries please do request a test print prior to ordering.

Customers Also Bought
A selection of other products our customers love that you may also enjoy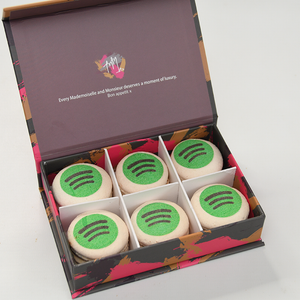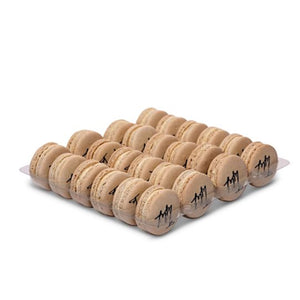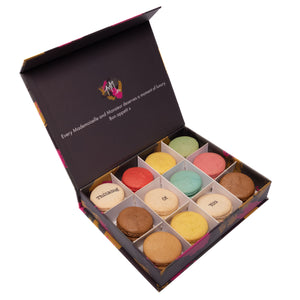 Thinking of You Printed Macarons Gift Box
Shop Now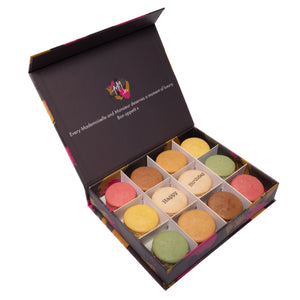 Happy Birthday Printed Macarons Gift Box
Shop Now
Choosing a selection results in a full page refresh.
My Cart
---
0 Items
$0.00