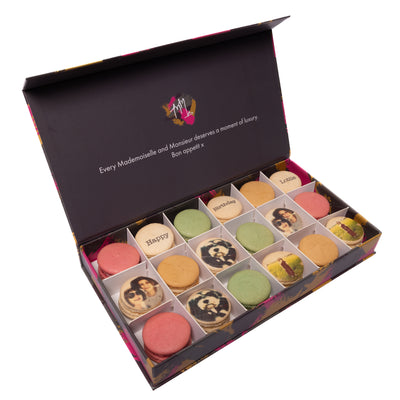 Our macarons are best kept in the fridge and consumed at room temperature
All macarons contain nuts
Specify your desired delivery date at checkout!
What's in the box?
Whether it's a Happy Birthday or a thank you gift, we can now send macarons to your loved ones with a special image and message to make them smile! 
Follow the steps below and have a look at our notes on how to design the most unique and delicious gift!
Please note: If you choose to have half the box printed e.g. 6 out of 12 macarons but have 5 words and 2 photos, we will not print them all. Additionally, one word per macaron prints and looks best for your wording. Please keep this in mind when making your choice and sending the message you'd like to be printed. We reserve the right to modify your wording or choose the best of the images uploaded to fit in with these guidelines.
Order notes
- Please upload high quality photos, roughly 3000 pixels if possible. If you do send us a low quality image, we cannot guarantee it will print as well as a laser printer prints on paper and will try to get in touch with you to warn you of this. Similarly scans of old photos won't tend to offer a great quality print. We are however, limited by the time factor e.g. if you want it for tomorrow but order it 15 minutes before order cut off, it will be difficult to do this. We will always, always try our best. 
- Maximum variation of photos to be printed per box is 3. If you send 12 different images to be printed, we will only print 3. 
- We can only print your photos onto white or ivory macaron shells which are Vanilla flavour. 
- Please note that macarons average 4cm in diameter and as such we may have to crop photos in some instances to fit the circular macaron. 
Half printed boxes are supplied with the remaining unprinted macarons in raspberry, salted caramel and pistachio flavours. 

Choosing a selection results in a full page refresh.
My Cart
---
0 Items
$0.00