September 05, 2023
Mademoiselle chats with Libraries & Archives
Written by Carolyn Henry
For Mademoiselle Rachel her first bite of a macaron represented a moment of luxury and as such, we strive to ensure that each of our customers experiences a taste of Paris with every bite. That's why we only work with likeminded companies.
As a self confessed group of stationery lovers at Mademoiselle Macaron there was no better choice for the September Subscription gift than this gorgeous "to-do" note pad from Libraries & Archives, based right here in Edinburgh! We sat down for a cup of tea with Claire to chat about macarons, a love of all things stationery, pursuing your dreams and more...
Tell us a little about yourself, what's your business, and when did you start?
Thanks for having me! I'm Claire, and I run Libraries and Archives Paper Company, an online stationery shop. We specialise in bringing a selection of premium stationery to our customers and curate a selection that you won't find anywhere else. We run pop-up shops and workshops in Edinburgh but our online shop attracts a community of stationery lovers around the globe. We also host meetups for the fountain pen lovers and journalers of Scotland in our lovely HQ. We started in 2019 but our launch had to be postponed because of the pandemic, so we now count 2020 as our official beginning and we're celebrating our third birthday this year.
What do you consider your moment of luxury?
Sitting at a sunny outdoor table of a café with a view, drinking coffee, with a journal and a nice pen. Watching the world go by, writing and sketching. Bonus luxury points if it's in a place I've never traveled to before, although Scotland has plenty of good places for this too.
What's your favourite flavour of macaron?
A hard question! Coffee is the all-time favourite but your Earl Grey macarons are pretty special too, and the Matcha ones are fantastic. Are you seeing a theme? 
How do you serve / enjoy your macarons?
Always with coffee, usually an espresso.
What do you love about your job?
So much about it is wonderful, connecting with people who love stationery and paper as much as we do, discovering new and fabulous products for the shop, and we love collaborating with other businesses who are doing excellent things, like Madame Macaron. We regularly hold pop-up shops in Edinburgh with events and those are always a great buzz too. 
What other small businesses do you love and support?
Many of our stationery suppliers are independent businesses doing excellent work, making world-class products, and we want to support them as much as possible. Wallace Seymour are an amazing art materials maker based in Yorkshire who create the most incredible natural inks and paints from traditional recipes, and their dedication is something else. Our customers are always fascinated by their wares at our pop-up shops. Locally, Edinburgh has some fantastic independent bookshops such as Portobello Bookshop, The Lighthouse and Golden Hare. We also love Pyrus Botanicals in East Lothian who create such amazing floral creations and supply Scotland's florists with incredible locally grown blooms. We love to support amazing local food businesses too, our favourite local independent eateries are Pomelo, The Palmerston, Dough Pizza and Mother India Café. And our lovely neighbours The Nomad's Tent are a true gem of an interiors shop, with beautiful rugs, textiles and furniture that we have collected for our studio and home too.
What makes you stand out from other businesses? 
We are told that our personal touch is what our customers really love, we write a card with every order and always mention the ink we use in case they are curious. 
We've also been told that receiving our parcels is like a birthday or Christmas, which fills us with pride as we strive to provide a luxurious and personal unboxing experience to our lovely customers. 
We are unique in our dedication to eco-friendly standards and we don't sell any single use pens as we believe that refillable alternatives are just as good to use, and far better for the planet. We see fountain pens and ink as the ultimate moment for writing tools, as their owners would take pride in their writing, care for their pens and choose models and ink colours that expressed their personality, making writing a mindful and meaningful experience. Whether a journal entry, a letter or a shopping list, we believe that writing by hand can be an expression of who you are, and people have gravitated towards that as so much of life has moved online and become impersonal.
We've launched our own stationery products in recent months, after a fruitless search for the perfect To Do List Pads, we decided to create our own. They work perfectly with fountain pens and are produced with eco-friendly materials and packaging too. We use them ourselves every day, and like the Mademoiselle Macaron team, we get a lot of satisfaction from enjoying our own creations every day.
Claire we are so delighted to be stocking the wonderful new "to do list pad" on Mademoiselle Macaron and making many a recipient smile. Whilst we'd first been set only to include the pads with our September subscription box we've decided to keep them on the site for a little while - because who doesn't love a bit of stationery?! And, they may well be useful to ensure you never forget to order macarons...
Merci & Bisous! Rachel x
More From The Blog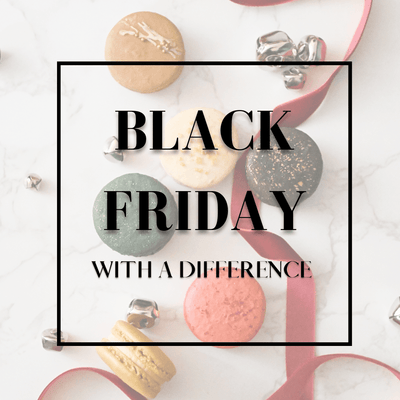 Mademoiselle Macaron's Black Friday Giveback
Mademoiselle chats with The Naked Marshmallow Company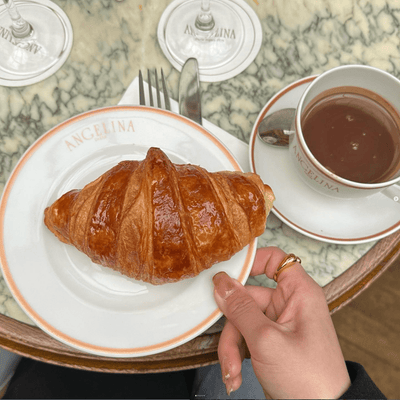 Parisian Hot Chocolate Bliss: MM's Top 3 Picks
Great Taste Award Winners